The best COVID treatments for hospitalized patients
Seven treatments for hospitalized COVID patients with very high success rates. They never make things worse so are safe to try.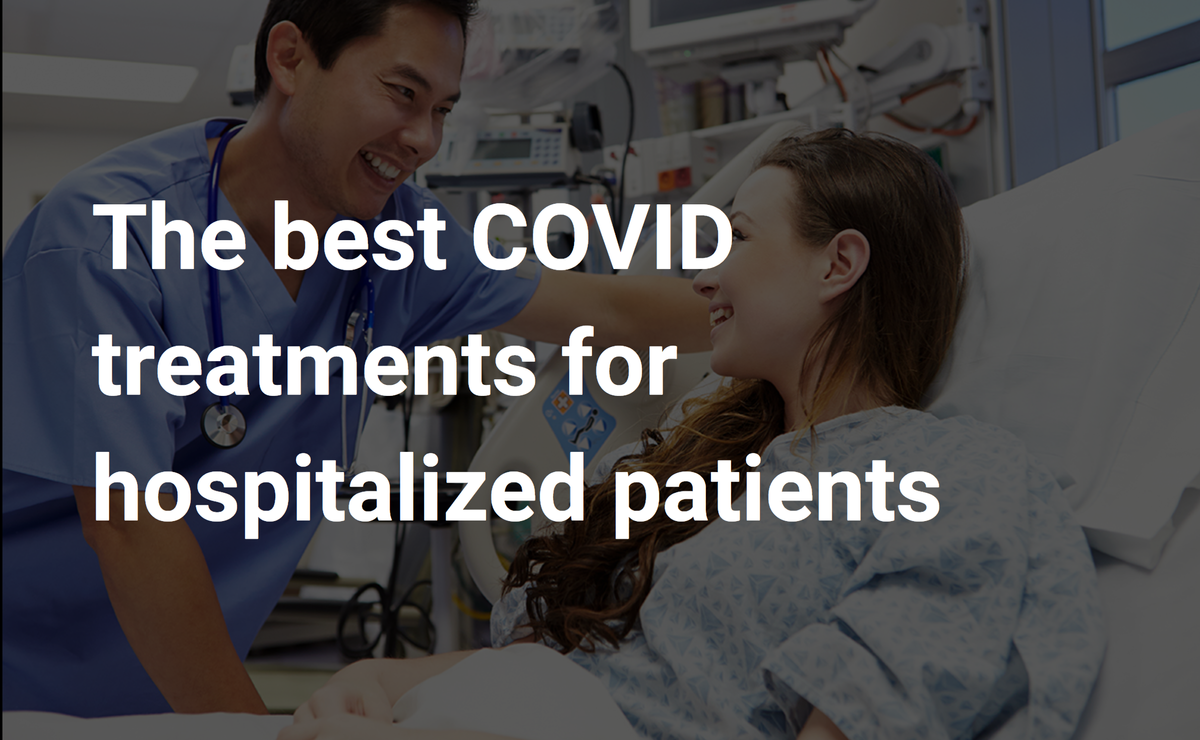 These methods below are proven to be effective, but they are not generally well known. None of them have ever caused a patient to worsen as far as we know, but physicians are generally unwilling to try any of them and will provide no justification for refusing to use them. If you want to use any of them, you will have to be very assertive and/or find a really good hospital and/or sue them.
In particular, you want to avoid two things like the plague. Both of these are generally a death sentence:
Remdesivir
Being put on a ventilator
I know of less than 5 hospitals in the US that would allow one or more of the treatments below. That is an indicator of how messed up our medical system is today since these are all "no brainers" if you take the time to look at each of them closely.
See which one(s) the doctor will support. You'll want to get your own personal physician involved if he has hospital privileges. The doctor may get fired or lose privileges for authorizing any of these medications. It may be impossible for you to get them to the patient since you will be prohibited from seeing the patient even if you are vaccinated (since the hospital knows the vaccines don't work).
Cyproheptadine
Cyclosporine
Fluxvoxamine or fluoxetine
Ivermectin
Fenofibrate
Vitamin D3
Aspirin
Inhaled Budesonide
Note: Leronlimab would have made the list, but the FDA hasn't approved it, so it can only be used in clinical trials where it typically has more than an 85% success rate when used as directed. However, the FDA refused to allow the drug to be used for once a week for 4 weeks, so the trial results were unimpressive and the drug will not get an EUA.
Adenosine inhalation
Marked improvement in lung function observed in 5-10 minutes.
Treatment is 9mg adenosine in an inhaler given every 12 hours first day, then once a day for next 4 days.
93% survival rate; decreased time on vent, in ICU; lower viral load.
The mechanism of action seems to be a mix of effects on vasculature with inhibition of immune response, with the immune side being the most important.
The question was how to get FDA approval to use inhaled Adenosine for ultra rapid covid treatment due to the novel form of administration.
For more info, see the inhaled adenosine slide deck by Bruce Spiess. Clinical trial here.
Adenosine paper: "Considering these hypotheses, a COVID-19 patient with unresponsive respiratory failure was treated with adenosine for compassionate use. The results showed a rapid improvement of clinical conditions, with negativity of SARS-CoV2 detection."
ExThera Seraph 100
This device is a filter for your blood to extract out the virus. Basically, process is exactly like dialysis, but you use a special filter (the Seraph 100) on the dialysis machine. This filter will filters out SARS-CoV2 from your blood.
78% survival rate if given pre-vent. 100% survival rate if treated on day of or day after intubation. But the earlier you treat, the better the outcome.
Device cost is $1,500 per patient per time. Usually just one time (depends on viral load). Takes 4 hours to filter your blood.
800 patients, no problems in anyone.
Physicians normally make the mistake of waiting to use this until patients are on high flow oxygen because they are too conservative about the benefit/risk tradeoff, but it's always better to use it earlier, e.g., as soon as someone has checked into the hospital. Patient is immediately better after 4 hours.
See ExThera Seraph 100 for more information.
Flow Pharma FLOVID-20 (t-cell therapeutic vaccine)
Works to both prevent and treat. Useful for long hauler too. Works across all coronaviruses. Best used early (right after infection) but can be used late stage.
Cyproheptadine
Cyproheptadine 8mg TID has proven to extricate patients from the ICU in 48 hours repeatedly. Doesn't work a small percentage of patients, but never does harm. There will be a clinical trial to prove this works soon. Dr. Farid Jalali and Dr. Philippe Rola discovered this. There is a paper to back this up and case studies, but both are not published yet.
For anyone with oxygen requirements and covid, cyproheptadine will benefit them. If early disease without o2 requirements, fluvoxamine is the way to go.. Basically, if you didn't get fluvoxamine early (which would have kept platelets from getting loaded up with serotonin), then your platelets will release that serotonin when the virus attacks. This means its too late for fluvoxamine to undo that damage (the genie is out of the bottle already), so cyproheptadine blocks the receptors that serotonin would otherwise activate. So basically fluvoxamine keeps the horses from leaving the stable, but once the horses have left the stable, then you use the cyproheptadine to keep the horses from doing any damage.
For better results combine with Famotidine 40 mg BID
See my tweet on cyproheptadine for more info.
Cyclosporine
Hooman Noorchashm is the champion of this approach used for late stage COVID patients. See his Medium article on cyclosporine.
10/10 success record per patients enrolled using this protocol.
Fluxvoxamine
100mg TID of fluvoxamine can salvage patients and the effects are almost instant: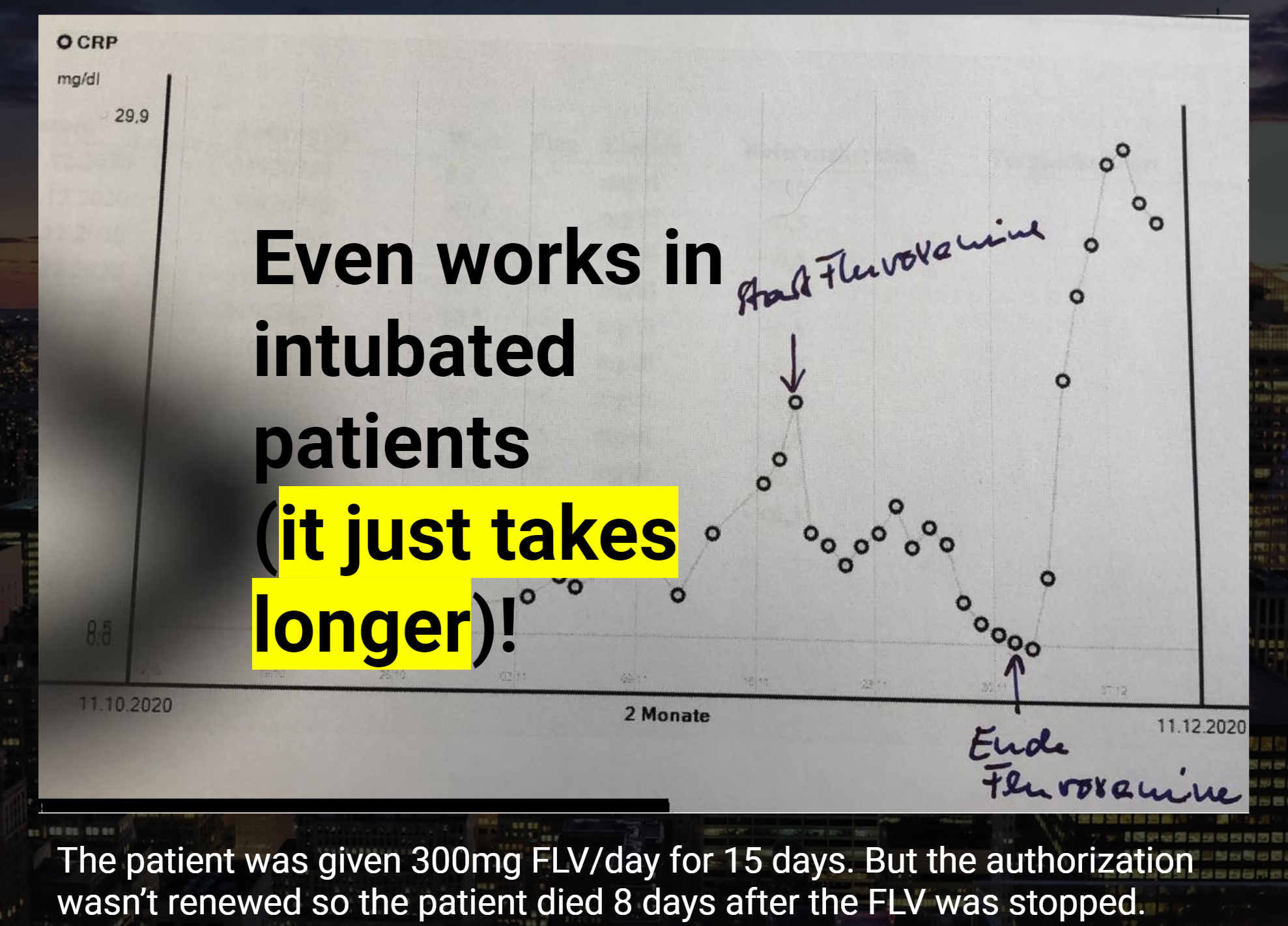 Fenofibrate
This drug is a no brainer for hospitalized patients due to respiratory distress since there are no downsides, the drug is cheap, and it works rapidly to relieve respiratory distress. 145mg/day for 10 days. There is a trial in the US for hospitalized patients on this drug.
Proven in large RCT to reduce death rate by 92% for hospitalized patients. It's a pill. Available only in clinical trial, but should be available via Right to Try because there is an active IND at the FDA as of March 5, 2021.

For details, see this presentation or read this article or this article.
There is also an outpatient trial with superb results.
Ivermectin
A very safe drug that can cut your risk of dying in half. Has worked even for patients who are close to dying.
Vitamin D3
This reduces your risk even if you are sufficient in Vitamin D3. It is surprisingly more effective than you'd guess. A factor of 2 or more could be the difference between life and death.